John McEnroe Joins Howard Schwartz for Children's Charity
Grandstand Sports - National Television Appearances
CNBC
Grandstand Sports' exlusive deal with Olympic Gold Medal champion Michael Phelps discussed on CNBC.
---
CBS MarketWatch
Grandstand Sports, President and Founder Howard Schwartz appeared on CBSMarketwatch Weekend to talk about the sports memorabilia market. Mr. Schwartz, an expert on memorabilia authenticity, gave tips on how to protect yourself from fraud.
CBS Reporter, Ed Crane: "Rule number one, don't take a pitch unless it comes from a reputable dealer. Howard Schwartz runs Grandstand Sports and pays athletes directly for their signed merchandise"
---
CNN/fn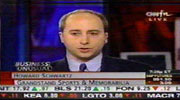 Grandstand president brings his years of expertise in the memorabilia industry to CNN/fn's award winning program Business Unusual. Mr. Schwartz takes calls on a wide range of topics within the memorabilia industry. Whether its authenticating your memorabilia items or investing in sports and celebrity items, Mr. Schwartz's vast experience in the industry, enables him to speak expertly on a wide variety of topics about the industry.
---
Grandstand Sports - Featured Local NY Television Appearances
Fox News and Channel 11 NY
Grandstand Sports founder Howard Schwartz appeared on Fox Networks Good Day New York and Channel 11 NY. Mr. Schwartz lent his years of experience discussing many issues involving the collectibles market.